Played by Ana de la Reguera
Character Bio:
Cruz is an expert mechanic and fought against the initial zombie outbreak with Scott Ward.
Costume
Top: Foliage green tank top.
Pants: Cargo pants in coyote.
Boots: Palladium boots in black.
Chest Rig: Blue Force Gear RACKminus chest rig in multicam. The shoulder straps were likely moved farther apart to accommodate her bust. Three HSGI Taco rifle mag pouches on front. The right-hand pouch has a "Las Vengeance" patch at the bottom.
Accessories:
On her left leg is a G-Code GCA76-DLS drop-leg platform in coyote with black holster.
Tactical belt with D-ring in olive drab, with triple pistol pouch & rifle mag pouch in multicam
Custom leather bracers
Fingerless gloves in black fabric or suede
Assault Mod Tactical Throat Mic
Necklaces: one beaded collar necklace and one longer necklace with an old-fashioned key on it
Earrings
Black aviator sunglasses
Weapon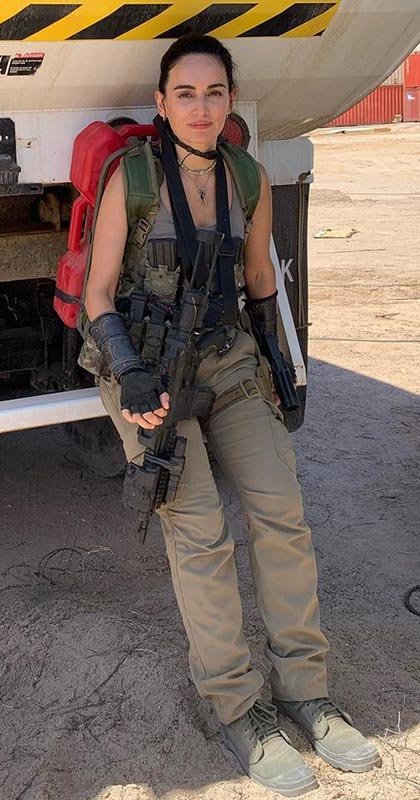 Heckler & Koch 416C with EOTech EXPS3 holographic weapon sight and PEQ-15 target pointer.
Cosplay Tips
The Cruz look can be easy to achieve if you find gear in the right colors.
Boots: Palladium-style canvas boots can be cheap and easy to find. They are also known as French or Israeli combat boots.
Rifle: You can buy an airsoft version of her HK 416C rifle.