Played by Tig Notaro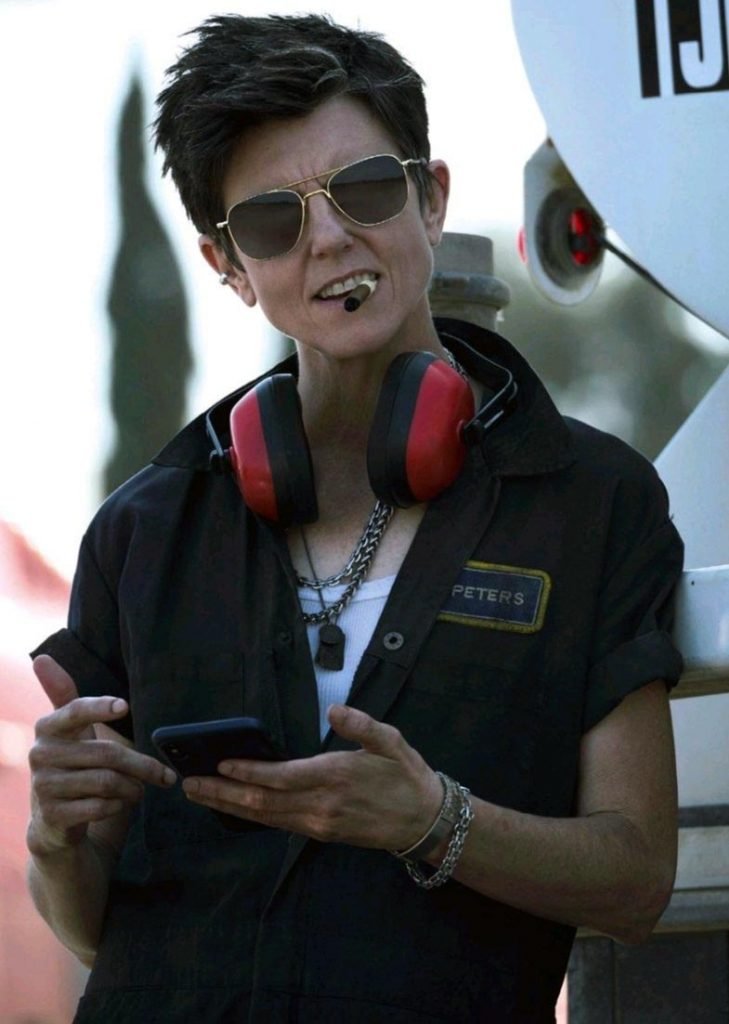 Character Bio:
Marianne Peters is a helicopter pilot. She gets recruited by the team at the airport.
Costume
Airport Look: Black (or dark navy?) short-sleeved coveralls with collar popped. Blue printed name tag that reads "PETERS" with white printed border and yellow merrowed edge. White A-shirt ("wife-beater") underneath. Red ear muffs around neck.
Shirt: White t-shirt with bound crew collar
Suit: CWU-27/P Nomex flight suit in tan. Upside-down US flag on right shoulder, unidentified yellow unit patch on left shoulder, and "Las Vengeance" patch on chest.
Chest Rig: Condor Recon MCR5-800 OD with some engine oil on it
Accessories:
Weapons
Heckler & Koch MP7A1
Cosplay Tips
Sunglasses: Randolph aviators are a bit pricey. American Optical (AO) Original Pilot aviators are identical and a bit cheaper. Or if you just want the cheapest sunglasses possible, there are lots of nice-looking knock-offs available.
Red ear muffs: Identical ear muffs can be found at Harbor Freight for half the cost.
Rifle: Buy an airsoft HK MP7A1