Played by Garret Dillahunt
Character Bio:
Martin was Bly Casino's head of security and accompanies Bly Tanaka on business trips. He also joins the team on their heist mission, since he knows the casino intimately.
This character may have been known as Frank Peters in an earlier draft of the script.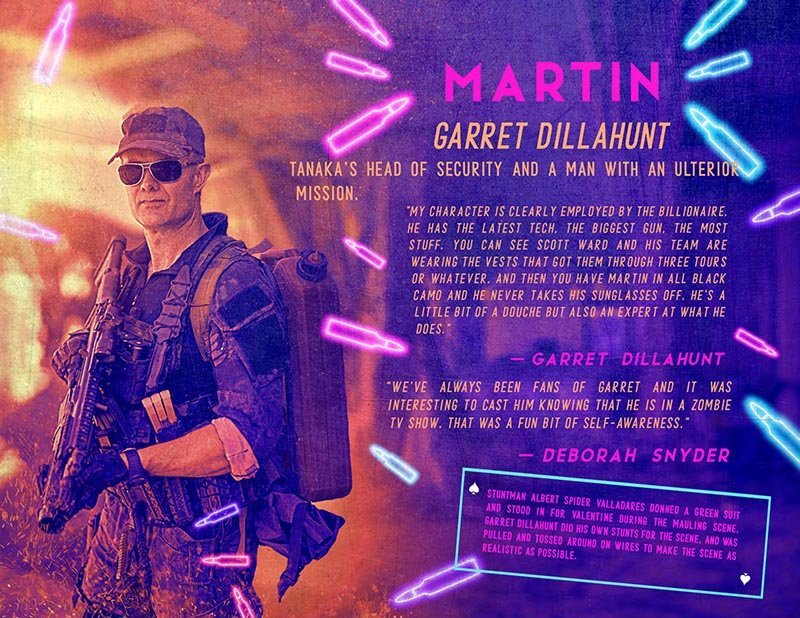 Costume
Shirt: Kryptek TACTICAL 3 LS ZIP combat shirt in Typhon
Pants: Kryptek Typhon camouflage cargo pants
Boots: Black lace-up combat boots
Chest Rig: HSGI Neo chest rig in black multicam. Benchmade Nimravus knife 140BK. Tonto training knife on left shoulder. Top row: HSGI Duty Double flash bang/grenade Taco pouch in black. Bottom row: G-Code Soft Shell Scorpion Mag Pouch (tall) in black for chem lights (ie glowsticks). Three HSGI X2RP M4 pouches with three HSGI pistol pouches on front (in black).
Accessories:
Weapon
Black FN Scar-L with EGLM grenade launcher with Trijicon ACOG 4x scope
Cosplay Tips
Rifle: Buy an airsoft FN Scar-L