Played by Ella Purnell
Character Bio:
Kate Ward is Scott Ward's estranged daughter and is a volunteer at the Las Vegas Quarantine Center's McCarran refugee camp, which is detaining Las Vegas residents who got caught in the quarantine zone.
Kate Ward joins the team in order to help find Geeta, a mother who's gone missing inside after the Coyote helps her get in.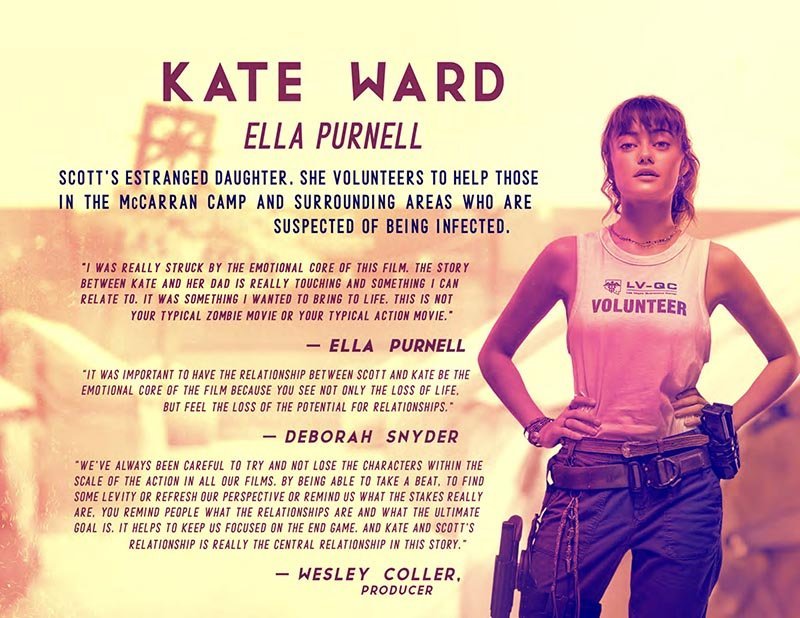 Costume
Shirt: White muscle tank that reads "Las Vegas Quarantine Center Volunteers." Burnt orange tank top underneath.
Pants: Navy blue utility pants fastened by a narrow Western-style belt. Some woven tassels clipped to a belt loop. ♦️
Footwear: Brown boots with heather socks. ♦️
Accessories:
On her right leg is a G-Code GCA76-DLS drop-leg platform in black, with black holster
Cobra buckle D-ring belt in olive drab, with pistol magazine pouches on left side
Necklaces: small chain and multi-colored bead
Bracelets
A blue lanyard with a LV-QC credential
Cosplay Tips
Until we identify the exact pants, try these Dickies pants in rinsed navy blue.